Taiwanese entrepreneur develops 'candyceutical' products, ensuring people's access to nutrition
April 24, 2023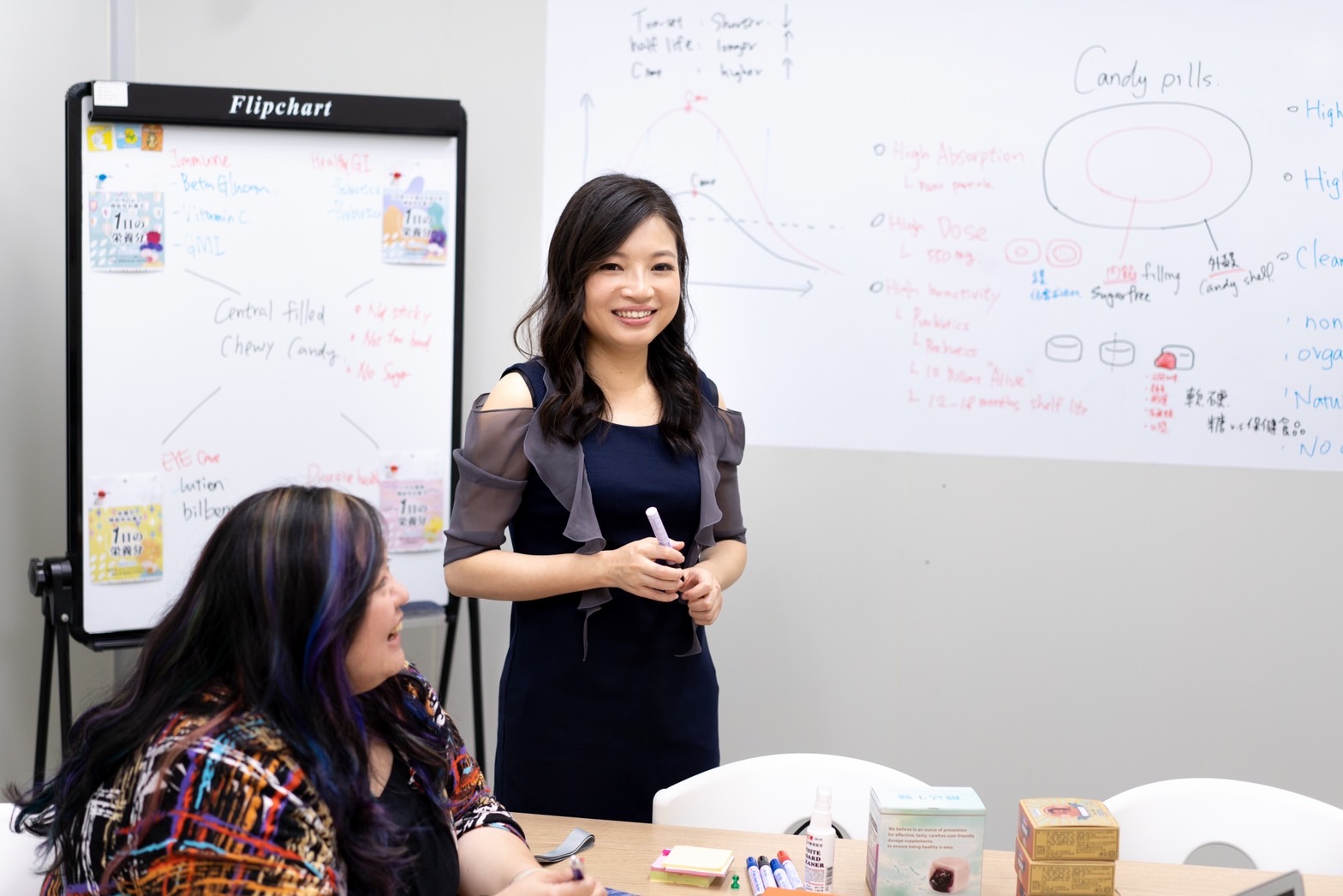 TAIPEI (Taiwan News) — Founder and CEO Corina Huang (黃韻如) shared in an interview the inspiration and impact of BonchaBio, a company that manufactures "candyceutical dosage forms" to help people easily consume nutrient supplements.
In an episode of the Startup Island TAIWAN podcast, Huang, a Cartier Women's Initiative laureate, said she built the company after her grandmother suffered a stroke, which made taking pills difficult.
She realized not just the elderly face challenges with swallowing pills. 50% of people have encountered "pill-related dysphagia," according to Huang, "which can lead to people skipping important nutrients and ultimately impact their health."
Huang wondered if there was an alternative that could help people access nutrition. She wanted to eliminate obstacles and side effects for people that find pills hard to swallow.
She also drew on her past experience in a more conventional industry that integrated innovative technologies relating to food science, nutritional pharmacology, and manufacturing. While still working on this venture, she was approached by nutraceutical companies about creating supplement products that "taste like candy."
"Supplements in preventive medicine have always faced a trade-off between taste and efficacy, and the dosage form is crucial. Pills and capsules are effective but often cause users to experience swallowing difficulties, and vitamin gummies and functional candies are friendly but not potent enough because bioactive ingredients cannot survive the candy production process," Huang said.
Candy-like Capsule
"While the nutrition industry has been focused on finding the finest functional ingredients, the fundamental problem of pill-related dysphagia remains unsolved," she said. BonchaBio thus came up with a solution: the easy-to-chew and easy-to-swallow "candyceutical" dosage form, which has high bioactivity retention and absorption rates.
The company calls its product "candyceutical" because it uses a candy-like capsule to contain nutrients that benefit people's health. "It is designed to meet the psychological demands and physical needs of all users," the CEO said.
For example, Huang said people have trouble taking fish oil regularly despite knowing its health benefits because it is traditionally contained in large soft gel capsules and comes with a bad aftertaste.
Since BonchaBio's co-founder has a background in pharmacy, the company was able to access relevant resources and develop a vacuum production line that prevents fish oil from being exposed to oxygen as well as fish odor-free technology to mask unpleasant flavors. In addition, the company had biotechnology experts de-odorize fish oil, pharmaceutical experts to maximize its efficacy, and food scientists to coordinate nutrition with confectionery.
The experts were all excited to be part of the team, knowing that they were working on crucial parts of the product and contributing to the health of their loved ones, Huang said. "It is the best incentive to invite talent to be part of our team," she added.
Handling with Care
There were countless other challenges BonchaBio needed to overcome. "To be honest, this wasn't an easy task. We began with a challenge which, in the nutrition industry, was still unsolvable," Huang said.
Huang continued, "Most ingredients, about 80% of them, are very fragile and need to be handled with care … However, confectionary manufacturing is basically the perfect process to destroy the efficacy of nutraceutical ingredients. The temperatures and pressures are the biggest challenges and enemies."
Huang explained that for probiotics to be effective, millions of live bacteria would need to survive in humans' gastrointestinal tract and reach the colon. Yet probiotics are fragile and sensitive to heat, and the bacteria cannot survive traditional manufacturing processes for capsules, tablets, or confections, which is why probiotics are usually taken in the form of powders.
Powders are not very children- or elderly-friendly, either.
BonchaBio came up with a patented manufacturing process that makes probiotic candy capsules under low temperatures and pressure. A layer of prebiotics is added to the shell of the candy capsule to enhance the probiotics' survival rate.
"It took us almost three years to develop a tasty and potent candy capsule. We have run more than 400 parameters or formulas to make this happen," Huang said. "No one could tell how long (the development process) would last, how many tests we should run, and when we could see the light at the end of the tunnel," Huang added.
'Medicine and Food Homology'
When asked whether BonchaBio's product is well-received in Taiwan, where the older generation tends to favor traditional Chinese medicine over Western medicine, Huang said though the average life expectancy of humans has been increasing, the quality of life in the latter stages has not been improving at the same pace. Most people at this stage rely on caregivers or are bedridden, and 75% are in "suboptimal health condition."
These "suboptimal health conditions" can be alleviated or improved by getting supplements in time. "With a growing aging population, the demand for health maintenance products is only going to increase. While traditional Chinese medicine is popular among middle- and upper-aged individuals in Taiwan, the trend towards Western-style supplements is also growing stronger," she said.
The COVID-19 pandemic has further increased the public's focus on preventative health care, and the demand for nutraceutical supplements is rising, Huang added.
Meanwhile, Huang highlighted that traditional Chinese medicine is often in powder or liquid form and tastes very bitter, making it also difficult to swallow or consume, which is why BonchaBio also offers traditional Chinese-style products. "One concept we embrace is 'medicine and food homology,' which means that some Chinese herbs and foods share the same origin," she said, meaning some ingredients can be used in pharmaceutical and food-grade products.
Speaking about her experience as an entrepreneur, Huang said while Taiwan is becoming more friendly towards female entrepreneurs, many fields are still male-dominated. The main challenges she faced were in accessing the market resources and investment.
"I had to work harder to gain credibility and recognition in a field where women are underrepresented," she said.
However, she has seen positive changes and an increasing number of females' success stories in recent years. "Everyone is bound to face challenges regardless of gender, but ultimately it depends on how you choose a project."

Article source: Taiwan News